WE MAKE YOUR FUTURE BRIGHT WITH DESIRED EDUCATION AS YOU WISH!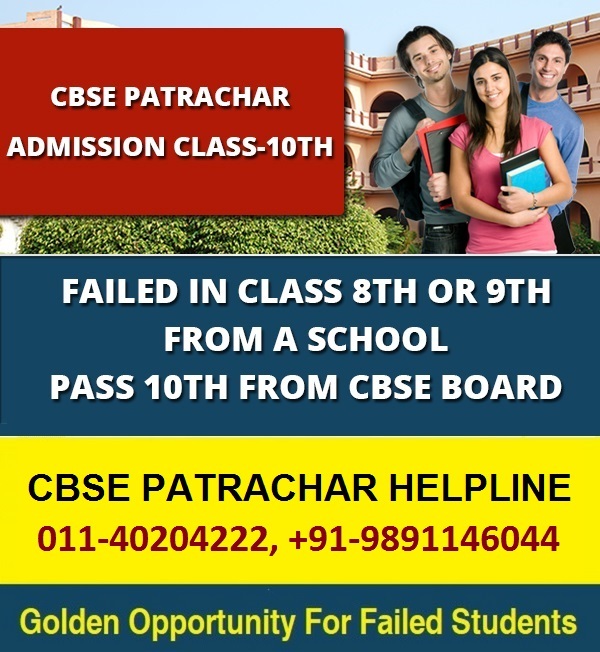 Welcome to helpline of Sunny Coaching Centre for CBSE Patrachar Vidhyalaya Admission class 10th.
If you are a student and belong to any one of the following categories –
failed in class 9th from any school

passed class 8th with one year gap

failed in class 10th board examination or

studied privately up to class 9th

dropped out from school in class 9th standard
You don't need to worry at all about your incomplete education. Sunny Coaching Centre is here to help you in your every step to pass class 10th board exams successfully and bring back happiness in your life. What you need to do is contact us and tell us your wishes to pass class 10th. Our expert teachers and professionals will take all the necessary steps to enable you to complete your secondary school studies and class 10th board exam.
Sunny Coaching Centre takes further steps in this regard. Our professionals will help you in filling your CBSE Admission Form with correct details, attaching the required documentary proofs carefully, submitting the application form and obtaining the admit card and hall ticket for the ensuing CBSE Patrachar Vidyalaya class 10th board examination.
The next step is to prepare you well for your board exams for class 10th. We conduct special coaching classes for weak students at our study centers which is the best coaching center in Patel Nagar, Delhi. In order to enable the students in their studies, we give a chance to them to choose their convenient timings. These special coaching classes are conducted during morning, evening and weekends.
Sunny coaching centre knows the plight of failed students
Right from the inception, the aspiration and objective of every student are to get well-educated and get respect from their family members and neighbors. The parents also repeatedly encourage student time and again, to study well. In this, the parents always quote as examples, learned persons in the family and from relatives, who are well-positioned in life.
Thus the motivation from parents and relatives propels the students from behind, to achieve good marks in every exam, especially in the CBSE class 10th board exam. But in practice, many students lag behind in understanding the lessons properly, and the correct method of answering the questions in the board exam. This confusion in understanding acts as a drawback and with the result, they are unable to achieve high marks and fail.
Sunny Coaching Centre understands the sadness of these students and wants to wipe off their tears. With this objective in mind, the expert professionals of Sunny Coaching Centre have helped thousands of failed and dropped out students to complete their school education to pass class 10th with their valuable help.
CBSE patrachar vidyalaya admission class 10th rules
CBSE Patrachar Vidyalaya under the guidance and supervision of CBSE Board conducts annual public examination for class 10th and class 12th every year. In these courses, the failed students and school dropouts can fill the direct admission forms form and appear for the board exam and achieve the meritorious CBSE certificates of class 10th and class 12th.
Sunny Coaching Centre uses this formidable opportunity to get the fail students admission, through CBSE Patrachar Vidhyalaya admission for class 10th and class 12th.
Facilities available at sunny coaching centre
The special coaching classes for class 10th and 12th are conducted by sunny coaching centre's expert teachers at well-furnished and equipped study centers. The teachers with their vast experience fully understand the predicament of failed students. So they illustrate each and every lesson for class 10th students clearly and without any doubt.
For this purpose, study materials, CBSE NCERT Books, guides, notes, tips, previous years question papers and answers, sample papers are all used for the benefit of students.