WE MAKE YOUR FUTURE BRIGHT WITH DESIRED EDUCATION AS YOU WISH!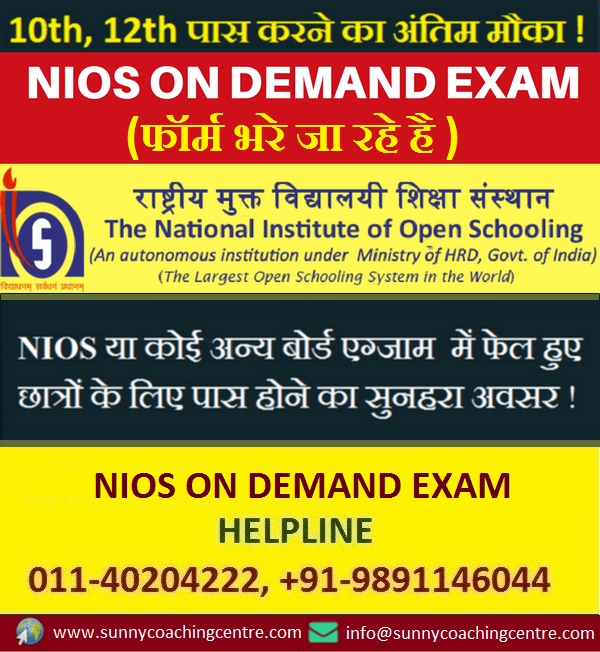 Welcome to the Helpline of Sunny Coaching Centre for NIOS Admission Class 10th – Stream- 1
If you are a student aged above 14 years and belong to any of the following categories –
a) failed in class 7th, 8th or 9th
b) dropout from school in any of the above classes
If you want to take admission in NIOS Board, immediately contact Sunny Coaching Centre. We are waiting with the good news that you can get direct admission to NIOS class 10th. Get special coaching classes and pass out victoriously and go happily to face life!
Sunny Coaching Centre is the best coaching institute in West Patel Nagar, Delhi. It has been in the service of student community since the year 2009. Over the last ten years, Sunny Coaching Centre has helped thousands of failed and school-dropout students, to pass class 10th and thus complete secondary school education successfully.
You need only to contact us and get all the information about your NIOS admission for class 10th. We will aware you about the important documents required for your admission and subjects you want to study in class 10th. You can easily pass class 10th, from NIOS (National Institute of Open Schooling).
Download NIOS Class 10th Books
NIOS Direct Admission Procedure
National Institute of Open Schooling (NIOS) is an educational board and an autonomous institution under the HR Ministry, Government of India. The main objective of this board is to provide educational opportunities for the community, which do not have facilities or face difficulties, to join formal schooling to get educated.
The open school admission procedure admits aspiring students into class 10th and class 12th courses, without many strict conditions. Sunny Coaching Centre advantageously uses this flexibility of NIOS and gets direct NIOS Admission class 10th for even failed students of 7th, 8th or 9th class and dropouts to standard 10th. The academic plans of NIOS board are devised by eminent scholars, to bring even uneducated students to a higher level of studies, and make them pass secondary (class 10th) and senior secondary (class 12th) school education.
Class 10th course is a milestone
Students from class 1st get promoted to higher classes, up to 9th class without many difficulties at the school level. Only when the student attends the 10th standard, they need to face the board examination, common to all schools and conducted by educational boards. The secondary school (class 10th) certificate is the stepping stone for getting admitted to the pre-university course of class 11th and class 12th.
Students with class 10th pass certificates get respect in society. This is the reason why those school-dropouts and failed students in lower classes aspire very much, for obtaining this credible passing certificate. They are sore that they cannot achieve this milestone certificate in life, owe to their failure.
How you get helped by sunny coaching centre?
For many years, Sunny Coaching Centre is functioning with the aim of helping out many failed and dropout students, to make them successful in achieving class 10th certificate. When approached, they help the student in everything from filling the NIOS Admission Form, attaching required documents, submitting and obtaining an identity card and hall ticket for the class 10th board exam.
In our special coaching classes for NIOS Class 10th conducted at study centers in all over India, in the morning, evening and weekends. Our professional teachers train and sharpen the skills of students, with well-prepared study materials, guides, notes, tips, previous question papers, and answers, etc.
Employed persons can get greatly benefited by NIOS admission stream- 1 for class 10th. They can continue working while the study in their leisure and pass class 10th.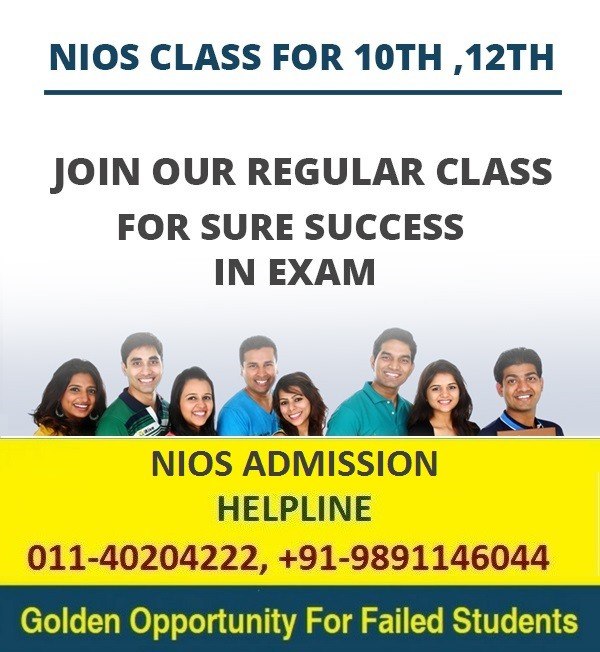 With Sunny Coaching Centre, preparation & passing class 10th becomes very easy!
Supporting documents required for NIOS admission class 10th:
For class 10th
Age Requirement: 14 years as on 31st July for March/April public exam and 14 years as on 31st January for September/October exams
Note: Attested copy of birth certificate issued by the municipal authority or district office of the registrar of birth for those born on or after 26.01.1989. Name of the child, father and mother should be clearly written on the computerized certificate.
Read More: NIOS Admission – Class 10th
Or
Transfer certificate or school leaving certificate showing the date of birth of the applicant, issued by the last school attended by the applicant. In case of Government Schools, the transfer certificate or school leaving certificate should be signed by the principal of school while in the case of private schools, the competent education authority of state or district education officer should also countersign the certificate.
Proof of residential address is essential for all. Attach a photocopy of any one of the following.
Aadhar card of the student

Ration card

Voter ID card of patents

Appointment letter from the employer on letterhead

Water/telephone/electricity bill

Statement of running bank account

Income tax assessment order

Parents passport in case of a minor