WE MAKE YOUR FUTURE BRIGHT WITH DESIRED EDUCATION AS YOU WISH!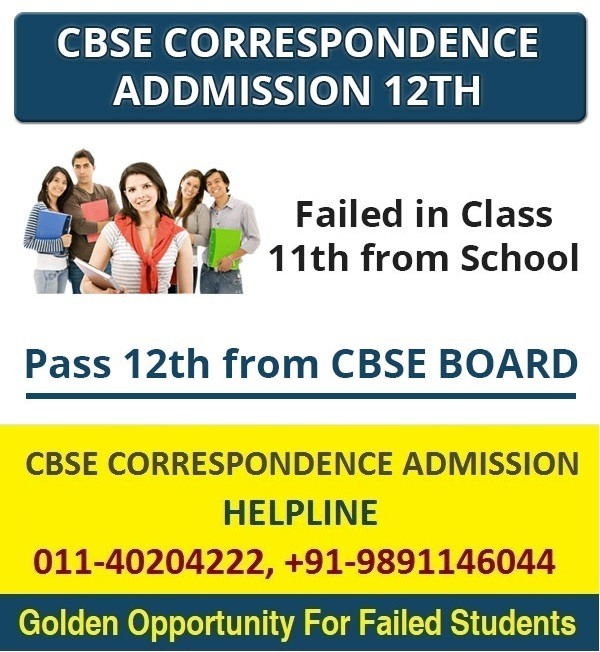 Welcome to the helpline of Sunny Coaching Centre for CBSE Correspondence Admission for class 12th. CBSE Correspondence Admission is something that gives you a formidable second chance, to continue your school education.
If you are a student and belong to any one of the following categories –
Failed in class 11th

from any school

Passed in class 10th from any recognized board from any state of India with one year gap

Dropped out in the middle of school in class 12th
Contact Sunny Coaching Centre immediately. We will help you for your CBSE Board Admission in class 12th, strengthen your knowledge and self-confidence to rise again from the failure, reappear for 12th standard exam and see to it that you pass class 12th with excellent marks!
Central Board of Secondary Education (CBSE) offers this rare opportunity for you. We will help you get CBSE Correspondence Admission for class 12th. We make you knowledgeable enough this time to face class 12th board exam and come out successful to continue your further education or seeking employment opportunities.
If you are a working person and want to complete class 12th from CBSE Board Correspondence Admission is the easiest way to study and at the same time work anywhere and earn. You need not to attend a regular school like regular students.
Sunny coaching centre offers timely help
Our professional educationists will do everything for you to fulfill your wish. The formalities of CBSE Admission Form filling for correspondence admission for class 12th, attaching required documents as proof, submitting the application and securing the admit card and hall ticket for class 12th board exam – everything will be completed perfectly.
We enable this facility for you to study and acquire the best knowledge in all the lessons prescribed by joining our best coaching classes in Delhi conducted at study centers, either in the morning or evening or weekends. You can choose your time as per your convenience. All that is needed is to contact our experts and express your wish to enroll as a student for CBSE Correspondence Admission for class 12th.
After this initial step, the expert teachers of Sunny Coaching Centre will impart specialized coaching in all the lessons in the classes. Your progress in education will be watched individually and helped to improve if there is any shortfall.
This way, you get fully ready by Sunny Coaching Centre with the knowledge and skill to reappear for the ensuing board exam and secure high marks. This will open up a bright future for you.
Senior secondary level education gets the importance
The dream of the parent's centers rounds their son or daughter right from putting them in schooling. The time and again remind their wards, the importance of getting highly educated so that they can command respect in the society.
In order to achieve this result, the student must cross two important hurdles – first is class 10th board exam and second in class 12th board exam. If only students succeed in getting the senior secondary (class 12th) certificate, namely 12th standard with credible marks, they can hope for a bright future.
Cbse correspondence education offers the best alternative
CBSE Board is a Central Government Education wing, it conducts school public exams every year. The main objective of the CBSE board is to promote world standard education to all Indian students. CBSE provides the second opportunity for students, through CBSE Correspondence Admission for class 12th, as private candidates to appear for class 12th exam and pass.
Know more about: CBSE Correspondence Admission For Class 12th
How sunny coaching centre helps you in this?
Sunny Coaching Centre is engaged in the service of the student community. Sunny Coaching Centre is the best coaching institute in Patel Nagar, Delhi. They have helped lots of failed students to get a pass through CBSE Correspondence Admission. Apart from getting you admitted in CBSE Correspondence Admission for class 12th, Sunny Coaching Centre experts will shape your skills to become a bright student.
Supporting documents required for CBSE Correspondence Admission
For class 12th
Attested copy of the class 10th pass certificate from a recognized board/secondary examination having a record of the date of birth (no other proof of age will be accepted for sr. Secondary  admission) i.e. photocopy of class 10th mark sheet and passing certificate
Proof of residential address is essential for all. Attach a photocopy of any one of the following.
Aadhar card of the student

Ration card

Voter ID card of patents

Appointment letter from the employer on letterhead

Water/telephone/electricity bill

Statement of running bank account

Income tax assessment order

Parents passport in case of a minor