"ENABLES EDUCATION WITH EASE"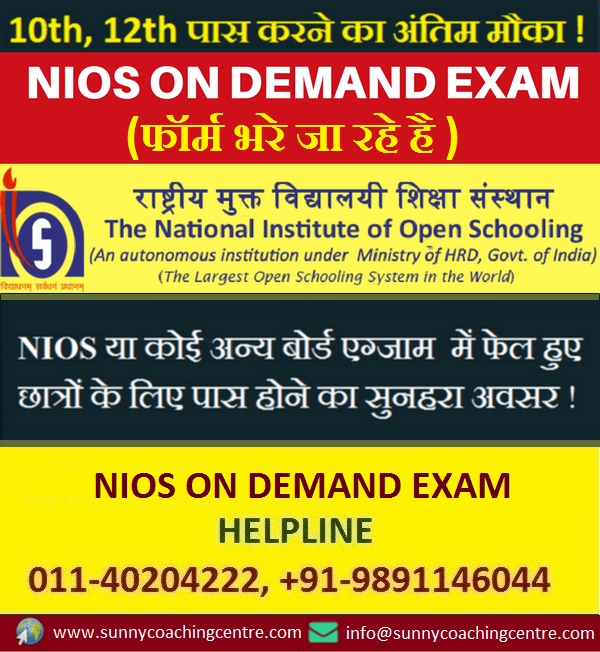 NIOS On Demand Examination for class 10th and class 12th is an innovative opportunity in which you can select the exams dates when you are prepared for exam any time during the year and passing it with good marks. Through NIOS On Demand Examination (ODE), failed students can pass the selected exam within 2 months in the same year. Sunny Coaching Centre have expert teaching professionals who will help you to select your subjects and guide you for your NIOS Admission and also we help you by our best coaching classes in delhi for your exam preparation for "NIOS On Demand Exam" and pass with credible marks.
NIOS On Demand Exam courses – Stream-3 & 4
When student getting fail marks in class 10th or class 12th board exams, even in one or two subjects, the fate of the student gets sealed. students will get a failed certificate and go out of the process of entire school education, once for all. They have to leave their studies in the middle, thus they face a lot of mental troubles. They can neither get respectable employment nor join any university or college for higher education.
NIOS On Demand Examination (ODE):
National Institute of Open Schooling (NIOS) is an autonomous education board under the Ministry of HRD (Human Resource Development), Government of India. NIOS provides an easy and hassle-free method of continuing studies and passing the board exams of class 10th and class 12th for students who failed in one or more subjects.
Under the NIOS Stream- 3 admission, failed students in class 10th can appear for the exam conducted by NIOS every month during the year, in the subject they failed in any board of school education in any state of India. You also have an option to change any subject which you think is difficult for you to pass and select the easy subjects instead of a difficult subject.
Since the students select their preferred exams and preferred month, they can appear in the On Demand Exam. In On Demand Examination System (ODES), there is no need to wait for the whole year to complete secondary or senior secondary exam for failed subjects. Similarly, through the NIOS stream- 4, failed students in class 12th enjoy the same opportunity, for appearing and passing the selected exam (on demand) in their failed subjects.
How sunny coaching centre helps stream 3 and 4 students?
Sunny Coaching Centre has experienced educationists, who conduct coaching classes for all the subjects for students of both class 10th and class 12th. These coaching classes for class 10th and class 12th are conducted every day, in our study centers during the whole year.
You can enroll for NIOS Admission online through. Also, you can get the guidance from councilors, as which exam or exams you want to appear on demand. Join our coaching institute in Patel Nagar to sharpen your skill, clarify your doubts in the failed subjects and confidently face the exam of the relevant subject. You will get a pass certificate – no doubt!
Additional facilities available:
If you are joining in NIOS Admission Stream- 3 and 4, you are getting additional facilities also. In NIOS On Demand Exam, students can opt for Transfer of Credit (TOC) facility. If you have secured high marks in any of the two subjects already passed, those marks get transferred to the present "NIOS board certificate" obtained after passing the exam.
Also, if you want to enhance the marks in any of the subjects got already, you can reappear for the same subject exams any number of times, and get more attractive marks in those subjects.
Read more about: NIOS On Demand Exam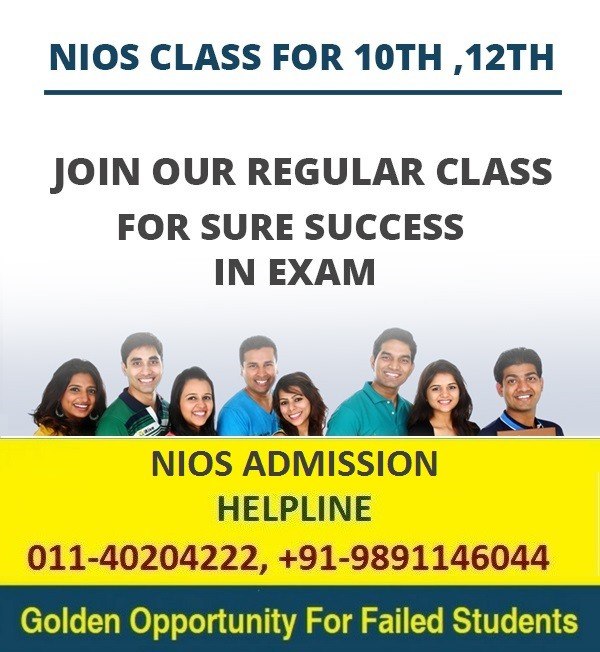 Consider the Benefits of ODE System:
You get all the required information and support of expert teachers from our study centers. All your doubts, apprehensions and anxieties are relieved by the teaching methods, with previous year question papers, model question papers, guides, and study notes. You can select your exam, select the date, and appear any number of times till you get excellent marks and a pass certificate. For full details of subjects, documents required for age proof, qualification proof, residence proof and fee structure, see the relevant pages of NIOS Admission.
Nios stream 3 and 4 are tailor-made for failed students for sure pass!
Documents required for admission in NIOS stream 3 and 4 – NIOS on demand exam
For class 10th failed:
Original class 10th failed mark sheet is required if passed in one or two subjects or original admit card of previous board exam if failed in all subjects
4 colored passport size photographs
AADHAR card of the student, guardian, and parents
Photocopy of Address proof
Download NIOS Class 10th Books
For class 12th failed:
Original class 12th failed mark sheet if passed in one or two subjects or original admit card of class 12th if failed in all subjects
Photocopy of class 10th mark sheet and passing certificate
4 colored passport size photographs
AADHAR card of the student, guardian, and parents
Photocopy of Address proof
Download NIOS Class 12th Books