WE MAKE YOUR FUTURE BRIGHT WITH DESIRED EDUCATION AS YOU WISH!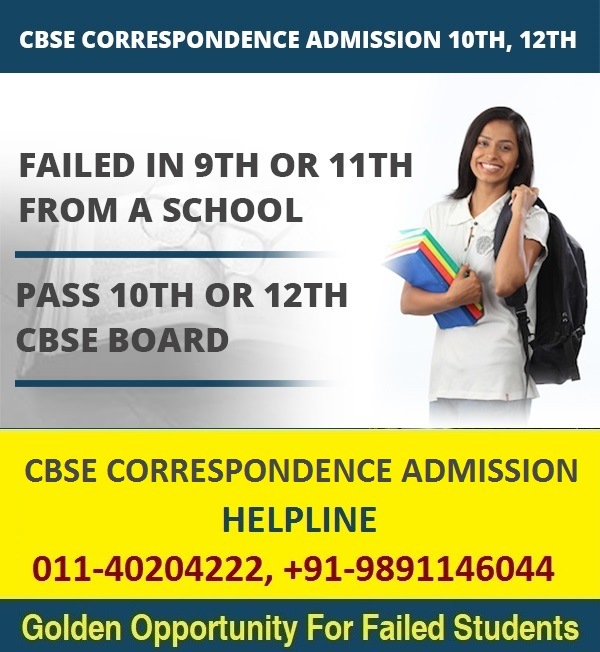 Welcome to the helpline of Sunny Coaching Centre for CBSE Correspondence Admission for class 10th and class 12th. Really CBSE Correspondence Admission is a blessing for failed students, working people and school dropout students.
If you are a student and belong to any one of the following categories –
failed in class 9th or class 11th from any school

if you are school dropout earlier but now want to continue your studies

if you are a working person now want to complete your education for class 10th or class 12th
You don't need to worry at all! You can approach Sunny Coaching Centre immediately. In our coaching institute, first, you will get our expert's help for your admission in class 10th or class 12th through CBSE Correspondence Admission. You can get CBSE Admission and pass class 10th or class 12th CBSE board exam with high marks with the help and guidance of Sunny Coaching Centre and go out happily!
Sunny Coaching Centre is formed with the sole aim of helping the student community at the secondary (class 10th) and senior secondary school (class 12th) level. So far, with the focused efforts of our experts, thousands of students have passed class 10th and class 12th CBSE board exams, through correspondence admission. With the help of our coaching classes, you can also be one of them to enjoy the happiness of reviving school life once again.
Our expert professionals will help you for your admission in CBSE Correspondence Admission for class 10th or class 12th, as the case may be.  Impart special coaching in all subjects by regular classes. Sharpen your skills to face your board exams with confidence and pass out with high marks!
Why sunny coaching centre?
Since the inception of Sunny Coaching Centre is dedicated to serving the school going students, especially the failed and dropped out students. We take care of all your admission formalities in either class 10th or class 12th, according to your qualification. Being private students of "CBSE correspondence admission", you need not attend regular schools, like other students. We conduct special coaching classes at our study centers, during morning, evening and weekends. If you are a working professional, you can choose the convenient timing suitable for you.
The experienced teachers illustrate each lesson for class 10th and class 12th in our best coaching classes with sophisticated types of equipment. We also supply study materials, notes, guides and tips to improve your knowledge and skill in all the lessons. Previous year question papers with answers are supplied to the students. Mock-tests are conducted to familiarize you with the exam papers. With such individualized special coaching given by Sunny Coaching Centre, you become a more skilled and knowledgeable student.
Download CBSE Class 10th Sample Papers
Download CBSE Class 12th Sample Papers
Cbse correspondence education schemes at the school level
Central Board of Secondary Education (CBSE) is a division of Education Ministry of the Government of India. The main objective of CBSE is to provide world standard education to school students in India. They have formulated and prescribed CBSE Syllabus on this footing and conduct board exams every year, all over the country at particular dates.
Owing to the high standard, CBSE board passing certificates for both class 10th and class 12th are considered valuable for the students. The students obtaining these certificates are welcome to join class 11th in any school after passing class 10th. Those class 12th pass students get lucrative career and study options in the future.
The plight of failed, school dropout and uneducated students from schools is really miserable. With so many dreams and aspirations, they want to continue their studies. CBSE Correspondence Admission is the best solution for these students to complete their education.
If a student is failed in class 9th or class 11th from a regular school they cannot continue their school life. They will not be permitted to study in class 10th after failing in class 9th. Class 11th fail student is also not permitted to study in class 12th. They have to leave their education from a regular school with a transfer certificate. Their dreams and expectations are thus closed mercilessly.
In such a juncture, the student blinks as what to do next. Sunny Coaching Centre helps these students by admitting them as private candidates, through correspondence admission for class 10th and class 12th. These students can enroll for these courses, appear for the respective board examinations, and pass with high marks with the help of Sunny Coaching Centre.
Know more about: CBSE Correspondence Admission