WE MAKE YOUR FUTURE BRIGHT WITH DESIRED EDUCATION AS YOU WISH!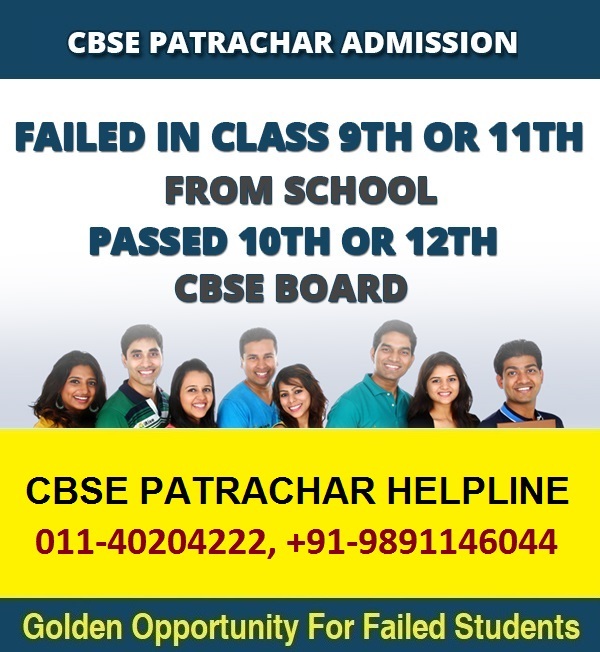 Welcome to Sunny Coaching Centre's helpline for CBSE Patrachar Vidyalaya Admission for class 10th and class 12th.
If you belong to any one of the following categories:
a) You are a regular school student failed in class 9th
b) You are a student who passed class 8th with one year gap
c) Dropped out of school earlier due to any personal or other reason
"HERE IS THE CHANCE FOR YOU TO GET ADMIT DIRECTLY TO CLASS 10TH WITH Sunny Coaching Centre HELP AND PASS HAPPILY!"
Similarly if –
a) you were studying in a regular school but failed in class 11th
b) you passed class 10th from any school one year before and dropped out.
Fail and school dropped out students are immersed in deep sorrow. All their dreams about the future are tarnishing and they are in total darkness, mentally. Unless they complete their Secondary and Senior Secondary School education, the outside world will not give them any respect, but only treat them as illiterate persons.
When they fail or drop out of school, they feel utter dejection that everything is lost, and they cannot enter any school campus again. But as a matter of fact, Sunny Coaching Centre has been lending a helping hand to this unfortunate student community.
Sunny Coaching Centre finds out many ways and available opportunities, to provide comfort and solace to these students and settle them back in school going life. Direct CBSE Admission to class 10th and class 12th is one of them.
Know more about CBSE Patrachar Vidyalaya
Central Board of Secondary Education (CBSE) is the wing of the Central Government of India. Patrachar Vidyalaya is an Educational Board in India which is located at New Delhi working under the guidance and supervision of CBSE board. Patrachar Vidyalaya is concentrating on providing secondary (class 10th) and senior secondary (class 12th) school education, to failed students and school dropouts.
SHED YOUR WORRIES. NOW YOU CAN CONFIDENTLY GET DIRECT PATRACHAR VIDYALAYA ADMISSION TO CLASS 12TH, WITH THE HELP OF Sunny Coaching Centre AND PASS WITH HIGH MARKS!
These failed and school dropout students are provided a second opportunity, for getting admitted directly for class 10th and class 12th, and passing the respective exams. Sunny Coaching Centre uses this opportunity to get these students Direct Admission to CBSE Patrachar Vidyalaya for class 10th and class 12th. Sunny Coaching Centre is the Best Coaching Institute in Patel Nagar, Delhi.
The CBSE board issue the certificate which is very valuable in all the Indian Schools and institutions since the standard of education imparted by CBSE is equal to world-class. Many educational experts evolve the educational standard; and formulate the CBSE Syllabus with a view to making the student updated in knowledge and wisdom, to face the challenges of today's life.
Benefits of CBSE Patrachar Vidyalaya Direct Admission:
In everybody's life, education holds a vital position. Unless a person is educated, they become second-grade citizens and are looking down upon as illiterates. If a person completes secondary or senior secondary education, it opens up many vistas and avenues for future careers and a better life.
A student who holds Secondary (class 10th) passing Certificate can opt for further studies in class 11th and class 12th for College admission. Also, students can diversify towards technical education, and there are wide open opportunities to sharpen the technical skills in many fields of employment.
Know more about: CBSE Patrachar Vidyalaya Admission
Sunny Coaching Centre helps in every way:
Sunny Coaching Centre takes these failed students in their care and sees to it that they complete their school education successfully. Our experts, when you approach them, will help you with your admission for Patrachar Vidyalaya class 10th or class 12th.
The required details will be filled up correctly and the documents to be attached as proof will be check and attach. The application will be submitted and the Admit Card and Hall Ticket for Exam will be got for you.
Next, you will be enrolled as a student in their Special Coaching Classes located in Patel Nagar, Delhi. Convenient school timings of morning, evening and weekends will be provided for you.
The expert teachers of Sunny Coaching Centre will illustrate every lesson clearly, with study materials, guides, notes, and tips along with previous question papers and answers.
Download CBSE Class 10th Sample Papers