WE MAKE YOUR FUTURE BRIGHT WITH DESIRED EDUCATION AS YOU WISH!
Welcome to the helpline of Sunny Coaching Centre for CBSE Correspondence Admission for class 10th. CBSE Correspondence Admission is an opportunity for school failed students and school dropouts and who are utterly dejected.
If you are a student and belong to any one of the following categories –
failed from a regular school in class 9th

pass class 8th with one year gap

failed in class 10th board exams from any recognized school or board and want to pass class 10th from CBSE Board
You don't need to worry at all about your incomplete education! You can approach Sunny Coaching Centre immediately.  Our expert professionals will find a way out for you to be happy.
First of all our experts will help you for you admission in class 10th from CBSE Correspondence Admission. At the next part, our expert teachers will prepare you and sharpen your skill for the Class 10th board exams by providing coaching classes. You may appear for the exam confidently and pass out class 10th with excellent marks. Thus you can start back your school life again and continue your further studies that open the door for your formidable future.
Cbse 10th standard correspondence admission gives new life
Central Board of Secondary Education (CBSE) is a division of Education Ministry, Government of India. CBSE Board provides the second opportunity for failed and dejected students. In their annual exam for CBSE class 10th, these students can get admitted as private candidates through correspondence admission for class 10th with our help. The certificate issued for students passing class 10th is very valuable in all the states of India.
Sunny coaching centre offers timely help
Sunny coaching centre is formed with the sole aim of helping the student community who failed in school exams and school dropouts who want to continue their education. Our expert teachers and professionals have helped thousands of failed and dropout students to pass class 10th board exams, in CBSE and Patrachar board exams.
You can approach Sunny Coaching Centre to get CBSE Admission in class 10th through correspondence admission system, as a private candidate. Your admission formalities will be completed by our experts.
By joining our best coaching institute for class 10th students, you can regain your school life and mingle in the mainstream of studies towards graduation or else seek suitable employment with other skills obtained in various trades and professions.
You can join special coaching classes of Sunny Coaching Centre in our study centers in Delhi. Coaching classes are conducted in the mornings, evenings and weekends as per your convenience. By the usage of modern facilities, study materials, sample papers, notes, guides and previous year question papers and answers by the experienced teaching professionals of Sunny Coaching Centre. You will get well prepared mentally in all the lessons.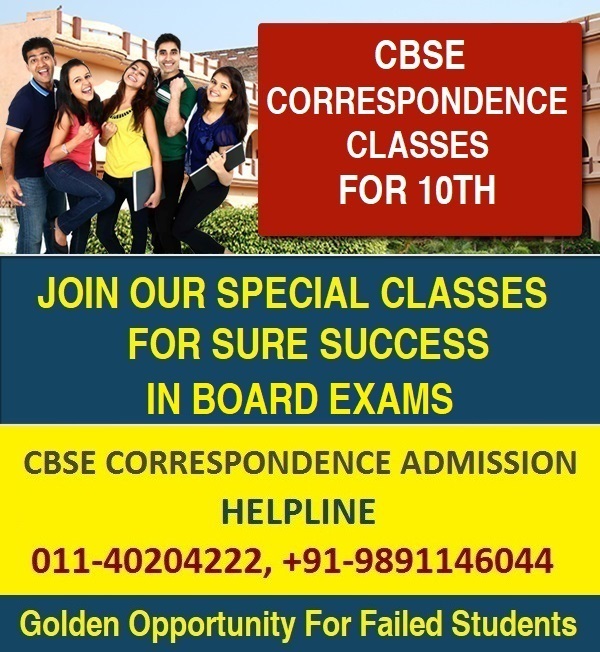 Required Documents for CBSE Correspondence Admission for class 10th
For class 10th:
Age Requirement: 14 years as on 31st July for March/April public exam and 14 years as on 31st January for September/October exams
Note: Attested copy of the birth certificate issued by the municipal authority or district office of the registrar of birth for those born on or after 26.01.1989. Name of the child, father and mother should be clearly written on the computerized certificate.
Or
Transfer certificate or school leaving certificate showing the date of birth of the applicant, issued by the last school attended by the applicant. In case of Government Schools, the transfer certificate or school leaving certificate should be signed by the principal of school while in the case of private schools, the competent education authority of state or district education officer should also countersign the certificate.
Proof of residential address is essential for all. Attach a photocopy of any one of the following.
Aadhar card of the student

Ration card

Voter ID card of patents

Appointment letter from the employer on letterhead

Water/telephone/electricity bill

Statement of running bank account

Income tax assessment order

Parents passport in case of a minor