"EXCELLENT CHANCE TO PASS CLASS 12th BOARD EXAMS IN FAIL SUBJECTS ONLY IN 2019-20"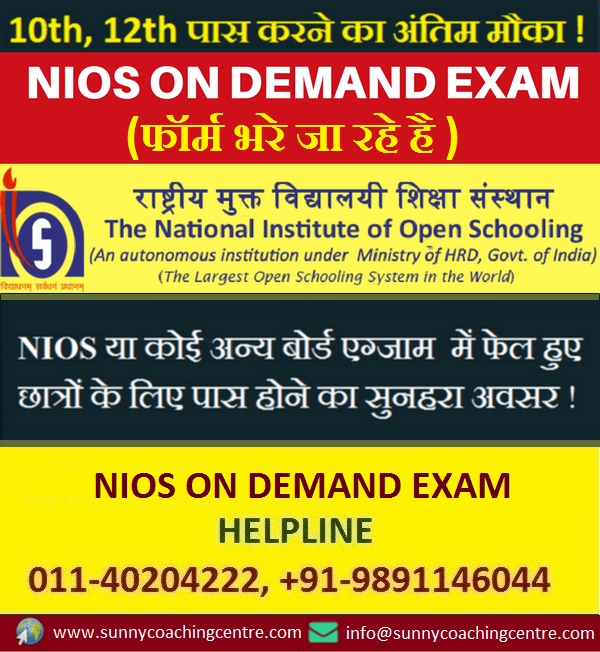 If you are a student of class 12th,
who appeared in

class 12th board exam

from CBSE or any other state board but failed in one subjects.

appeared in board examination for class 12th but failed in more than one subject or all the subjects.
Students who failed in class 12th board exam of regular schools have got a formidable opportunity to appear once again and pass the class 12th board exam. National Institute of Open Schooling (NIOS) opens up the gate for them through NIOS Admission Stream- 2 for class 12th. We at Sunny Coaching Centre provide all the help for these unlucky failed students in regaining their school studies, getting a pass certificate in the same year and they go out happily to continue their future course of action. Failed students can appear once again in the board exam of class 12th in the same year.
NIOS ONLINE ADMISSION STREAM- 2
If you are a student failed in class 12th (Senior Secondary school) from CBSE, ICSE or any other Board of Education in India? Are you blinking with frustration as what to do next? Don't worry at all! You can join the exclusive NIOS (National Institute of Open Schooling) board and pass the class 12th board exam. Here you can get an opportunity to re-appear only in your failed subjects in the same year. You also have an option to change the subjects in which you are facing difficulty in your previous board exam. In this way, by selecting the easy subjects you can pass the board exams of class 12th in the same year very easily.
The NIOS Admission Stream- 2 For Class 12th is really meant for you. Join this course through our help and get special coaching in those failed subjects from our expert teachers. After joining Sunny Coaching Centre, you can appear with complete confidence in 12th Standard Board Exams conducted by NIOS and score high marks.
How are you helped by us?
Sunny Coaching Centre is the Best Coaching Institute in Patel Nagar, Delhi. It has been helping hundreds of students Failed in CBSE board 12th, as well as other Boards of Education to get admitted and pass through NIOS Board open schooling. When you approach our institutions, you get all the help in filling up your NIOS Admission Form. We also help you to effectively preparing for facing the impending "NIOS Board exam" of the respective course.
We have our study centers in West Patel Nagar, Delhi. Our experienced expert professionals conduct Special Coaching Classes, for class 10th and class 12th according to NIOS subject list and syllabus. The coaching classes for 10th Standard and 12th Standard are conducted with the sophisticated facilities and equipment. Regular mock tests are conducted with previous year question papers on the subject, and the right answers are already explained.
Our expert teachers and professionals showing individual attention on each and every student. We prepare study materials and guides for studying the subject with an explanation. All these put together clear all the doubts and apprehensions of the students totally. Thus you get complete confidence in facing the exam of relevant subject by the NIOS Board. The coaching you got at our institution makes you answer all the questions correctly, and there is no doubt you will get excellent marks.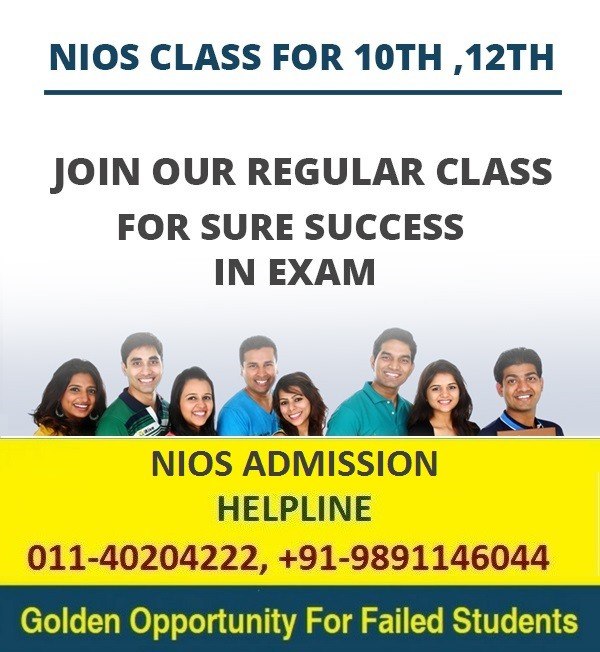 Transfer of Credit (TOC) Facility
One of the main advantage of "NIOS stream- 2 admission" is the transfer of the credit scheme. In this scheme, you are passed in at least two subjects from your previous board exam. The marks of these pass subjects are transferred and you have to appear only in failed subjects. Credit transfer of subjects is restricted to a maximum of two subjects. Another benefit of NIOS admission in this stream is if students want to change the difficult subjects than he/she can also select the easy one also.
Know more about: NIOS Board Admission
Employed Persons Can Get Greatly Benefited By NIOS Direct Admission For 12th Standard. They Can Continue Working And Study In Their Leisure At Sunny Coaching Centre To Pass 12th Standard.
WITH Sunny Coaching Centre, PREPARATION & PASSING 12TH STANDARD BECOMES VERY EASY!
SUPPORTING DOCUMENTS REQUIRED FOR NIOS ADMISSION STREAM 2 FOR CLASS 12TH
For class 12th failed:
Original class 12th

failed marksheet if passed in one or two subjects or original admit card of class 12th if failed in all subjects

Photocopy of class 10th marksheet and passing certificate

4 colored passport size photographs

AADHAR card of the student, guardian, and parents

Photocopy of Address proof