WE MAKE YOUR FUTURE BRIGHT WITH DESIRED EDUCATION AS YOU WISH!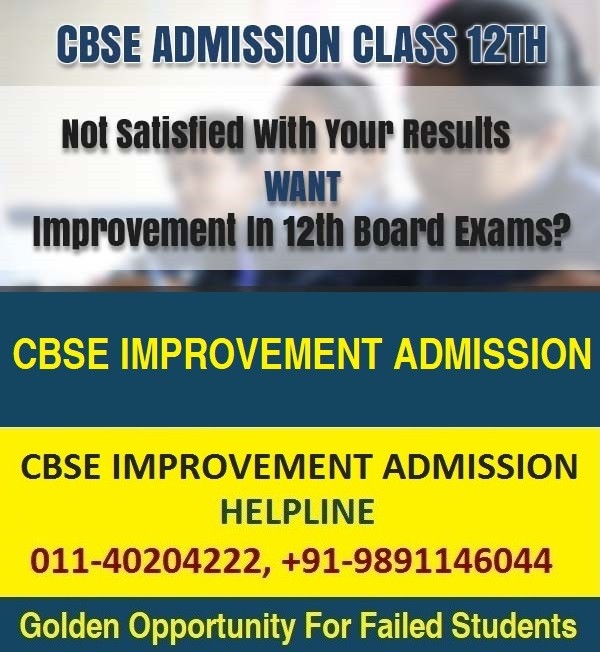 Welcome to the helpline of Sunny Coaching Centre for CBSE Improvement Admission for class 12th.
If you are a student and have appeared in CBSE Board exams for class 12th; and you think your marks and percentage are not satisfactory, contact Sunny Coaching Centre immediately.
Here is the opportunity to enhance your class 12th marks and percentage with the help and guidance of the experts of Sunny Coaching Centre. We will help you in achieving your ambition of securing high marks in class 12th board exams. Leave that responsibility to experienced experts of Sunny Coaching Centre. With the vast experience of Sunny Coaching Centre, thousands of students earlier got high marks, through CBSE IMPROVEMENT ADMISSION FOR CLASS 12TH, our experts know what to do.
You have to get admitted to the CBSE Improvement Examination first as a student aspiring to achieve high marks. For this when you contact us, we shall fill your CBSE Admission Form correctly, attach the important documents required and submit it with the proper authorities for your CBSE IMPROVEMENT ADMISSION in class 12th. Before the commencement of your final examination, you shall get your Admit Card and Hall Ticket for CBSE Improvement Examination. This is the beginning. You need to be prepared as a Bright Student for Passing CBSE class 12th exams. In order to make you more knowledgeable, you will be enrolled as a learner in our Special Coaching Classes in West Patel Nagar, Delhi.
You need to get special coaching classes for class 12th students, by Sunny Coaching Centre expert teachers, to become more knowledgeable, clarify your doubts, and to rectify the mistakes you did in the earlier exam. Once this is done, you become ready with complete self-confidence, to write the CBSE Improvement Exam for Class 12th coming up in session 2019-20.
Why the need for enhancing 12th Standard Marks?
Passing the Senior Secondary School (class 12th) or Pre-University Course of class 11th and 12th is mandatory for further studies and becoming a well-placed person in life. Especially in the fields of Medical, Science, Arts, Engineering, Commerce and Computer Technology, etc. There is unlimited scope for further studies. Lucrative career opportunities get opened up for them if they come out successful in these studies. Everyone wants the high-end income and social-status that make the individual life happy and comfortable. So no wonder many students want such a life. But if they really want to enjoy this life, they need to get admitted in meritorious and prestigious Colleges or Universities in India or abroad.
Admission in such famous and reputed Colleges is not a easy task. There is a very stiff competition from millions of students existing. So if the student wants to get admission in a prestigious College, the class 12th passing certificate is not enough. Exemplary Marks in the relevant subjects are needed. Sunny Coaching Centre helps the students in every way possible, to enable the student to achieve this ambition.
How does the CBSE Improvement Exam System work?
Central Board of Secondary Education (CBSE) is run by Government of India, Ministry of Education. They conduct regular Public Exams every year. In these CBSE Exams, class 12th students get a chance to re-appear for the exams in the subjects in which they have obtained border or passing marks and wish to enhance the same. Using this formidable opportunity, Sunny Coaching Centre helps these students to enroll for CBSE Improvement as a Private Candidate and give the Improvement Exam to achieve high marks.
When the CBSE Senior Secondary School Certificate is issued for the students when passed, only the enhanced marks now obtained will be recorded in the Mark Sheet. So the Mark Sheet gets more value at the time of further studies or seeking employment opportunities.
Know more about: CBSE Improvement Admission For Class 12th
Facilities provided by Sunny Coaching Centre
Ever since its establishment, the Educational Organization, known as Sunny Coaching Centre has helped thousands of failed students in school final get passed. If class 12th passed students want to enhance their marks, they can approach us immediately.
Sunny Coaching Centre is the best coaching institute in Delhi. The expert professionals of Sunny Coaching Centre help you get admitted in CBSE Improvement Admission for 12th Standard. Complete the Admission formalities correctly. We conduct Special Coaching Classes in the morning, evening and weekends, you can choose the batch as per your convenience.
In these Classes modern equipment's are used to illustrate lessons; study materials, sample papers, notes, guides and tips are provided; you get trained to face Mock-tests with previous question papers and answers provided by Sunny Coaching Centre.