"ENABLES EDUCATION WITH EASE"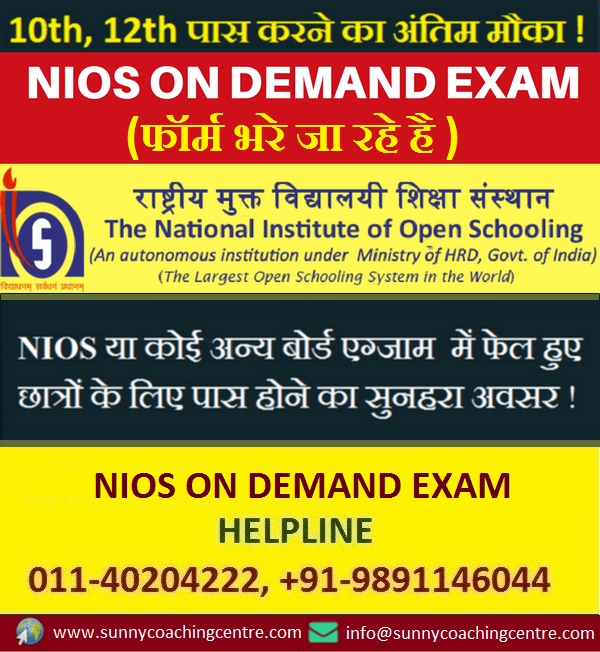 Nowadays, Open Schooling is a boon for failed students and private students, to come out successful in their final school examinations! Sunny Coaching Centre helps you do this in an easy way!
Passing class 10th and class 12th board exams is the dream of every student in India. Only this will get them social recognition and fulfill their dreams. This will also enable them to study further for graduation in the preferred faculty. At this stage, students can seek employment opportunities during their studies.
If you are one of the aspiring students who fail in class 9th or 11th from a regular government or private school, Sunny Coaching Centre stands by your side to help you for your class 10th or 12th NIOS Board Admission. Sunny Coaching Centre is the best coaching institute in Patel Nagar. We are conduct special coaching classes for class 10th and class 12th. You can study these courses and get excellent marks in your board exams. You can get your NIOS Admission Stream- 1 with our help and guidance and appear in the board exam confidently after one year of study.
How you are helped by sunny coaching centre
Nios admission stream- 1 is meant for direct admission to class 10th or class 12th. If you have failed in 7th, 8th or 9th class from a regular school, don't worry at all. You can get "direct admission to class 10th of NIOS Board" and you may continue your studies. Join our NIOS coaching classes according to your need and appear in board exams with confidence and pass your class 10th board exam.
Similarly, if you have failed in the class 11th exam from a regular school, there is no problem. You can get direct admission in NIOS 12th class straight away. Sunny Coaching Centre will help you get "direct admission in stream-1 from NIOS board". Without wasting your one precious year of education you can straight forward appear for your class 12th board exam next year. There is no need for you to re-appear in class 11th from school.
The expert educationists at our institutes will offer private coaching at our centers and you can join our coaching classes for class 12th NIOS board study for all the subjects. We provide modern facilities and teaching equipment and the entire syllabus is taught with notes, sample papers designed by expert qualified teachers. We complete the class 10th and class 12th course with the practice of previous year question papers and test series for all subjects. It helps the students to understand properly the usual questions asked from each subject in the board exam. If you are weak in any subject, we also provide special coaching for you.
Thus after studying for one year, you can straight away pass in 10th class or 12th class without difficulty, by the valuable help of Sunny Coaching Centre.
The value of NIOS board certificates
NIOS board is an autonomous board under the HR Ministry, Government of India. So the passing certificates issue for NIOS 10th standard and 12th standard exams is equal to CBSE Board (Central Board of Secondary Education). All the states of India have recognized these certificates issued to students of NIOS Board.
Class 10th and class 12th pass students can join any school in India to continue their study in 11th class. Class 12th passed students can join any college or university in India or abroad, for their further studies in engineering, medical, computer science and such other faculty courses for a bright future, opened up by Sunny Coaching Centre. They can get employment in state and central government vacancies, as equal to other candidates of formal CBSE or ICSE board schooling.
Read the full article for full details of documents required for age proof; qualification proof; residence proof and fee-structure etc.
Employed persons can get greatly benefited by NIOS admission stream- 1 for class 10th. They can continue working while the study in their leisure and pass 10th & 12th standard.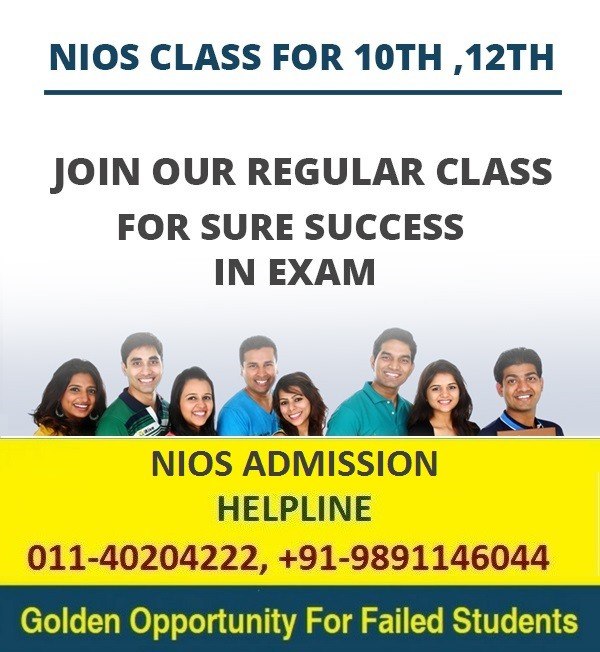 With sunny coaching centre, preparation for board exam & passing 10th standard becomes very easy!
Supporting documents required for NIOS Admission Stream- 1
For class 10th
Age Requirement: 14 years as on 31st July for March/April public exam and 14 years as on 31st January for September/October exams
Note: Attested copy of birth certificate issued by the municipal authority or district office of the registrar of birth for those born on or after 26.01.1989. Name of the child, father and mother should be clearly written on the computerized certificate.
Or
Transfer certificate or school leaving certificate showing the date of birth of the applicant, issued by the last school attended by the applicant. In case of Government Schools, the transfer certificate or school leaving certificate should be signed by the principal of school while in the case of private schools, the competent education authority of state or district education officer should also countersign the certificate.
For class 12th
Attested copy of the class 10th pass certificate from a recognized board/secondary examination having a record of the date of birth (no other proof of age will be accepted for sr. Secondary  admission) i.e. photocopy of class 10th mark sheet and passing certificate
Proof of residential address is essential for all. Attach a photocopy of any one of the following.
Aadhar card of the student

Ration card

Voter ID card of patents

Appointment letter from the employer on letterhead

Water/telephone/electricity bill

Statement of running bank account

Income tax assessment order

Parents passport in case of a minor