COMPLETE YOUR SCHOOL EDUCATION COMFORTABLY WITH OUR HELP!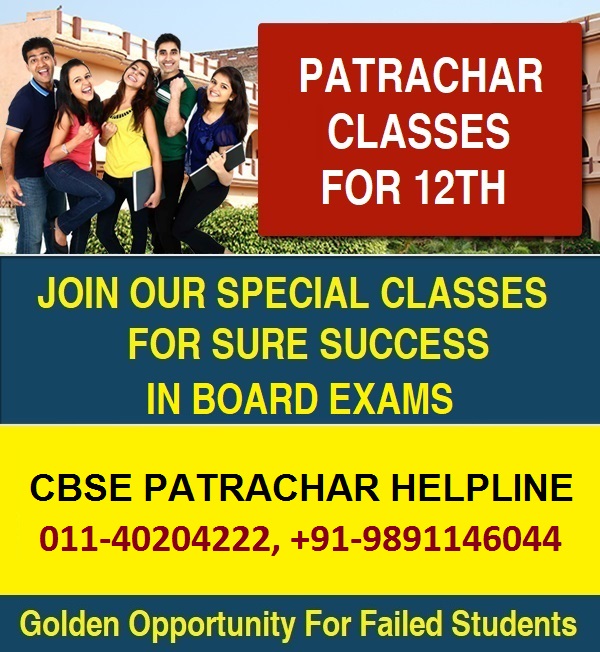 Welcome to the helpline of Sunny Coaching Centre for CBSE Patrachar Vidyalaya Admission Class 12th.
If you are a student and belong to any one of the following categories –
you failed in class 11th from any recognized regular government or public school
you passed class 10th board exam from the recognized board one year before and dropped out
Now you just shed all your worries that your school life has ended. There is always another chance. You can happily fulfill your ambition of completing your school education of class 12th with the help of expert professionals of Sunny Coaching Centre. All that is needed is to CONTACT US IMMEDIATELY and leave the matter to us.
Sunny Coaching Centre will stand by your side. We are the best coaching institute in Delhi. You will get all the help from us in getting your Patrachar Vidyalaya Admission Class 12th. When you approach us, the responsibility becomes ours in helping out from your CBSE Admission Form filling, attaching required documents, getting the Admit Card and Hall Ticket for Exam, etc.
Above everything, you will get Special Coaching in the tough subjects where you got fail marks in your previous board exam. You can use the experienced expertise of our teachers and professionals to gain more knowledge and skill and bravely face the impending Exams. Passing the board exam becomes an easy thing with High Marks.
How the failure makes the student get utterly dejected?
Any Graduation after passing class 12th distinctly lifts up the social status of the person concerned – male or female. The dream of almost all the students is to achieve a degree and complete their Graduation in Computer Science, Engineering, Medicine or Law, and such other Commercial Avenues of Chartered Accountants, Architects and so on. Once they achieve their Degree, all these career opportunities become possible and they can lead their life comfortably.
But the biggest hurdle is they should pass class 12th with credible marks, to get admitted to any College or University. In the case of thousands of students, this aim gets thwarted, when they fail in class 11th or drop out from regular schooling, after passing class 10th.
These unfortunate students are prohibited from continuing their studies in class 12th in all the regular schooling channels. But they need not lose heart. Here is a way out for them to get Direct Patrachar Vidyalaya Admission Class 12th in CBSE Board Course conducted by Patrachar Vidyalaya. They can join, study and get the pass with the help of Sunny Coaching Centre.
Know more about Patrachar Vidyalaya
CBSE Patrachar Vidyalaya is an Educational Organization of the Delhi Government. The main aim of Patrachar Vidyalaya is to open up education opportunities up to School fail and dropout students. CBSE Patrachar Vidyalaya give one more chance to these unlucky students through which they will be able to achieve their long cherished dreams of brightening up their individual careers.
The strongly prepared student confidently faces the class 12th board Exam, gets High Marks and goes out happily to pursue their career!
In order to achieve this aim, Patrachar Vidyalaya follows the CBSE Syllabus, for both class 10th and class 12th. CBSE Board education is meritorious by its world standard quality of the study and it is recognized in all the Indian States for College and University Admissions.
How Sunny Coaching Centre helps?
Sunny Coaching Centre is in the field of education for last many years in Delhi. They help aspiring students to get Direct Admission to both National Institute of Open Schooling (NIOS) and Patrachar Vidyalaya CBSE Board, in class 10th and class 12th. We guided well the unwary students with regard to the admission procedures and formalities. Not only that – Sunny Coaching Centre also conducts Special Coaching in their Study Centers, during regular school timings in Delhi.
The Three Streams of 12th Standard
The CBSE Syllabus for class 12th contains three streams namely – Arts (Humanities subjects), Commerce and Science. Since class 12th education is the base for further studies and Graduation in Arts, Commerce and Science subjects, students get preliminary exposure to these subjects in this Class. In every Stream of education, the students have to study 1 or 2 Languages plus 3 or 4 subjects (with one additional subject as their preference) as stipulated in CBSE and other School Boards.
Sunny Coaching Centre – Special Coaching features
Right from the first day you approach Sunny Coaching Centre, we take the responsibility of the student getting admitted in CBSE  Patrachar Vidyalaya Course, completing the formalities, and trained well in the respective study subjects.
For accomplishing this purpose, the professional teaching faculty uses well-prepared Study Materials, Guides and Illustrations, modern facilities of Slides and Projectors and individual attention to each student. In our study centre, the vast experience of the teaching faculty is used in understanding the difficulty of the failed students, in grasping required knowledge and painstakingly sharpening their skills.